ar.to system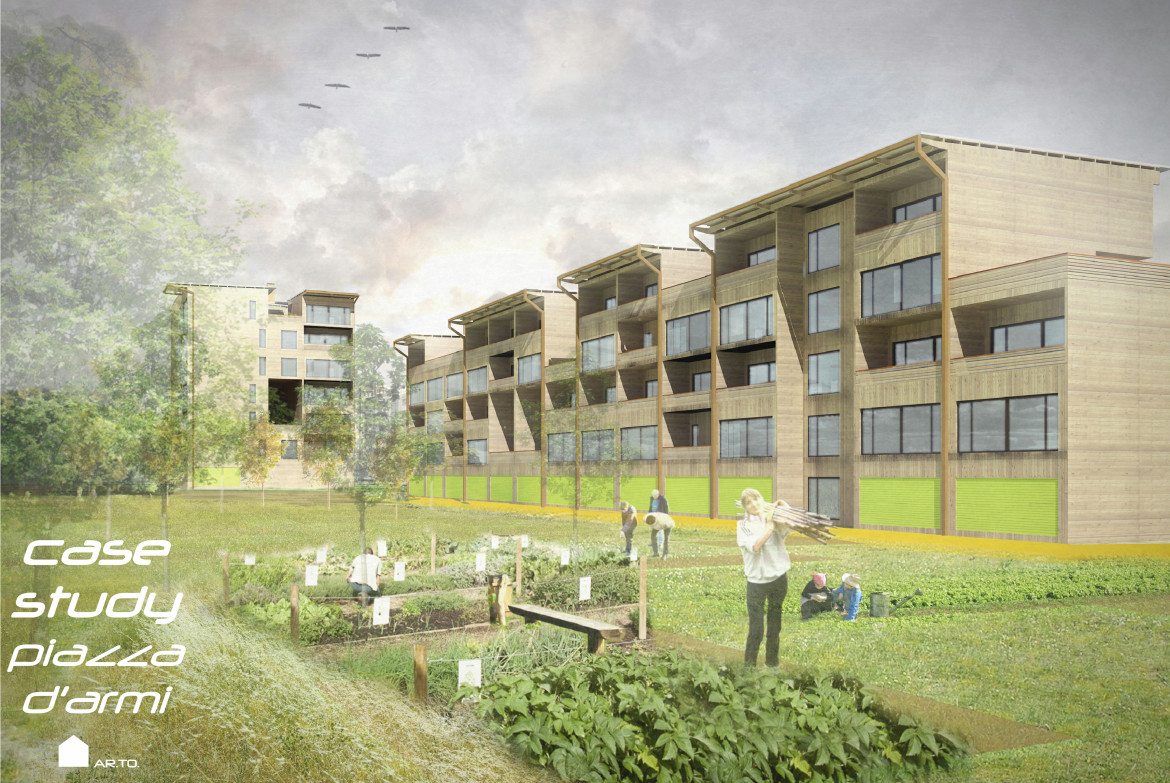 project name: temporary, instantaneous and reversible social housing
client: Public institutions administrations
location: milan, italy (but it could be developed in other places/cities)
coordinates: latitude 45° longitude 09° high above sea level 122
gross floor area GFA: 8568
gross volume GV: 25704
construction costs (US$): 12153789
construction times: less than 6 months
site area: 31172
footprint area: 2484
building height: 16
building depth: 18
medium gross floor area of each apartment: 100 sqm
wall transmittance: 0.19 W/sqm K
surface/volume ratio: 0.15 – 0.24
DESCRIPTION
1/ Material used
Concrete foundations; structure and building envelope in spruce pine plywood panels (X-LAM – PEFC certified); high performance glass windows; insulation panels in kennaf fibre (Hibiscus Cannabinus L.)
2/ Project description
The project for Temporary, Instant and Reversible Houses uses a resource that is not yet fully part of the project materials of architecture: Time.
The Problem. The high houses prices in city centres, as in Milan, and the lack of a structured housing policy causes the expulsion of low income classes from urban areas, such as students and young couples, with negative effects on urban liveliness.
The resource. Large areas of transformation, before becoming permanent city, commercial districts and parks, experience a transition period during which they are essentially unused.
The project aims to fit in this period to capitalize on the "time gap" between planning and building execution. In fact, one of the problems of administrative and economic complexity, related to the realization of great architecture works, becomes a real resource for urban regeneration.
For these reasons the project proposes to use these abandoned areas for temporary housing buildings with conventioned lease agreements, promoting a more efficient use of public land.
The settlements' layout is simple and linked to main roads. The new houses for students and young couples are of immediate construction, fully reversible, removable and transportable. A sort of "mounting box" that expresses the idea that a place is inhabited at a particular life-stage and maybe even the houses can be moved elsewhere.
The land use will be granted with temporary agreements, waiting for the approval and implementation of the permanent city project.
The speed of realization, the ease of disassembly and the focus on new temporary houses (designed for a mobile population, receptive to changes) are fundamental aspects of the project.
As regards the building system, the best solution is the prefabricated plywood panel system (X-LAM) that allows the use of modular basic units. These ones can be composed and assembled in different building typology that generates overlapped housing units.
This is the Ar-To system: architecture as a tool.
The settlements come from an architectural abacus that can be applied to different context, reducing the technical design phase and the yard times. The construction, which is an easy mounting operation, is quick, in order to reduce urban hardship deriving from the yard and take advantage of the "time gap" for land use.
The houses will be built on the boundaries of the areas, in order to ease the access, to define the limit of the sites and to simplify the connection to supply systems. The new buildings will define green spaces, such as small gardens, that would be the background of the temporary quarter and the place for new social relationships. Urban agriculture is the sign of a new way of thinking city life.
At the end of the temporary occupation the prefabricated houses will be dismounted and moved to another area, to "colonize" a new land: gardens will fade and students will start another period of their life.